Our Selection
"FRESH"

MARKET PHILOSOPHY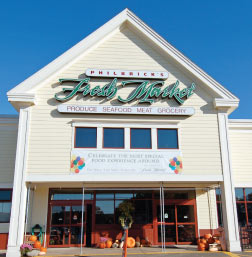 Our name says "fresh", and our approach to providing the most memorable food shopping experience possible is the same. Phil Philbrick and Vicki Turner created Philbrick's Fresh Market as a locally owned alternative to traditional mass-market grocery stores, where customers can find not just the highest quality everyday grocery items, but an amazing selection of organic foods, naturally raised meats, carefully selected fresh seafood, local and organic produce, hard-to-find wines and beers, artisan cheeses, imported ingredients, specialty foods, and prepared foods worthy of the Seacoast's finest restaurants. There is no more extensive selection of food shopping options anywhere around.
Would you like to read more about organic food?  Here is a great website for you:  Organic Consumers Association
Philbrick's Local Advantage
Join Our Program The Next Time You Are In One Of Our Stores!
* Absolutely Free To Join

* You'll earn 1 point for every dollar you spend

* VIP Access to our special events

* Receive notice on all non-advertised specials

* Automatically entered in quarterly prize drawings such as Q-Weber grille, bike, dinner certificates and more!
Program Benefits
Our Local Advantage Program is designed to honor our loyal customers. On each qualifying purchase you make, you will receive one point for each dollar you spend (excluding tax). For every 300 points you receive, you will be awarded a $10.00 credit towards a future purchase in our store. The more you buy, the more you earn. It's our way of saying thank you!
Frequently Asked Questions
 Once I give my name and email address and receive my key fob, is there anything else I need to do?  Yes, about a week after you start using your key fob, you need to register your card number at www.philbricksadvantage.com

Why do I need to register my card number?  2 Reasons:  We are verifying that the email address we entered is a match to the one you are using on the Advantage website.  And secondly, the Advantage website is where you view your purchases and print your rewards.

How do I register my card?  At www.philbricksadvantage.com, Click Advantage Login.  In the center of the screen you will see Philbrick's Fresh Market Rewards Account Set Up.  Enter the card number that is on your key fob and click Next.  Follow the on screen prompts to enter your email address and password.

Why is the site asking for my credit card number?  We will never ask for your credit card number.  The number the site is looking for is your Card Number.  Your Card Number can be found on your key fob.

Why am I getting a message telling me my card number is invalid?  Our system has not completed updating yet.  Please wait about a week before initially registering your new card number.


Will I loose points from the time I first use my key fob to when I register my card?  Absolutely not; all purchases you make using your key fob are accumulated even if you have not yet registered your card.

Do I need my key fob to earn points?  Absolutely.  Every time you make a purchase, swipe your key fob at the register.  No key fob, no points.


I can see my recent transactions on the Advantage website but it appears I did not earn points on my recent purchase.  Why?  Purchases are updated on the Advantage website the day after they occur.  We calculate/update points a couple of times a week.  Any purchases you see that do not have any associated points will get added in next we do that update.

Are you going to email my Reward to me?  No, we will email a notification that you have earned a Reward but you will need to print your reward yourself.

How do I print my Reward?  Log into the Advantage website, Select Points and Rewards Tracker.  Click on the black Track Rewards tab.  You will see Print on the right hand side of the Reward.  Be sure your printer is turned on and ready to print.


I don't have a printer.  Can you print my rewards for me?  No.  You will need to print your reward yourself maybe on a family or friends printer or at the library. 


Do my Rewards expire?  Yes.  A Reward is issued with a 30 day expiration date.  We will not accept expired reward certificates.


Can I use multiple Reward Certificates per visit?  No, only 1 reward can be used per visit.


What email address will the Rewards notification be sent from?   This e-mail address is being protected from spambots. You need JavaScript enabled to view it - Please add this address to your contacts, safe sender list, etc. so that your email provider will not mark the email as spam or trash.

If I have additional questions, who do I email for assistance?  This e-mail address is being protected from spambots. You need JavaScript enabled to view it